Like Trey Parker and Matt Stone's other collaboration, television's
Southpark
,
Broadway's
Book of Mormon
is crass, potty-mouthed, and frequently offensive. But among all the things it does 'wrong' — it actually may be doing something right.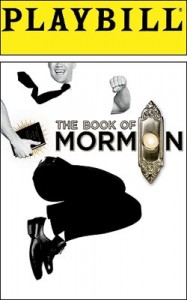 I know, I know. As a progressive woman of color, I should probably be horrified by the show. And believe me, there was some time before the intermission that I was. In fact, I had delayed seeing the award-winning musical for years out of concern for its politics. But a recent performance won me over.
As someone whose professional life is at the intersection of
'narrative, health and social justice,'
I spend a lot of my time thinking about the ways that narratives are told, and whether those tellings support or undermine social justice. One of the issues I think deeply about is authorship — in other words, whose stories get told? Who gets to speak and who gets spoken for? With this question in mind, it would seem that
Book of Mormon —
a play written by two white men about white men 'saving' people of color —fails to tell a racially just tale.
Yet, don't I and my activist colleagues get tired of 'explaining' race? Don't we frequently declare that it is not our job to teach white people 'all about' racism and imperialism? If that's so, what would an alternative narrative look like?
Book of Mormon
begins with two white Mormon missionaries (one, a handsome, gosh-golly-shucks earnest narcissist and the other an Eric-Cartman-lookalike oddball pragmatist with a loose relationship with truth) being sent to a Northern Ugandan community to convert the locals to Mormonism. The narrative is told from their point of view; they are the play's protagonists and we the audience are undoubtedly meant to identify with them. Not just that, but the Ugandan community they travel to is riddled with AIDS, poverty, and gender-injustice (including the threat of clitoridectomy and the belief that sex with a young virgin can 'cure' AIDS). Indeed, by the intermission, I was furious that the play's people of color were seemingly passive plot points rather than active agents driving the story, furious at the ridiculous stereotypes about Africa being played out before my eyes.
Some thoughtful critiques, such as this one from
Janice E. Simpson
, similarly take the musical to task for its race politics. In her April 2011 review, Simpson wrote,
The Ugandans whom the missionaries encounter are plagued by poverty, AIDS and an evil warlord who forcibly subjects women to circumcision…. Despite these woes, the villagers are portrayed as good-hearted, if simple-minded, people. One keeps referring to an old battered typewriter as her "texting machine." Another stomps around talking about raping babies because he believes that doing so will rid him of HIV…It's all played for can't-you-take-a-joke laughs. But how funny can it be that AIDS has ravaged Africa, that warlords oppress their fellow citizens or that women and children are subjected to forced clitoridectomies?
While I would have agreed with Simpson's argument had I left the performance at mid-point, by the end, I grew to realize that, while no means perfect,
Book of Mormon
also isn't quite as simplistic as Simpson seems to suggest, or as I had initially believed. Yes, it's horrifying to hear about a Ugandan man who wants to 'rape babies' to cure his AIDS. But the payoff comes in song lyrics when the villagers rightfully accuse the U.S. of 'having a cure for AIDS' (or at least quadruple therapies) but keeping it from the rest of the world, and saving it for a 'latter day.'
Ultimately, the subversive strength of the play is this: it is a powerful, and (if ticket sales are anything to go by) effective example of
white people talking to white people about anti-racist social justice.
By this I don't mean the musical pulls any punches, or talks about anti-racism in a way that 'doesn't offend' white people. Rather, I believe that it engages in a sort of neo-liberal self-critique that can only come from a position of 'insider.'
Consider that, through the trope of the mission-to-baptize-the-natives (which goes completely awry), the play is able to address the problems of neo-colonialism and what Teju Cole has called the
White Savior Industrial Complex
. This 'white savior narrative' is one espoused by all sorts of liberal folks, from U2′s
Bono
to '
I-am-African' poster-posing celebrities
to
Pulizer Prize winner Nicholas Kristof
.
To Read the Rest of this essay please visit
The Feminist Wire!