Dear Racist Tweeters of America,
First and foremost, let me thank you on behalf of feminists of color everywhere, not to mention the producers of the Miss America competition, for making people sit up and take notice of a beauty contest that otherwise would have been off most of our radars.
When I woke up Monday morning to find one of my Indian American friends had posted something on my Facebook wall to the effect of "Sisters! We are Miss America!," I appreciated the sentiment, but couldn't bring myself to care that much. After all, I spend most of my life as a feminist scholar, parent, and pediatrician
writing
and
lecturing against the toxic body culture
and impossible beauty standards that reduce our daughters' worth to their physical appearance over their intelligence and actions.
Ok, so some overachieving daughter-of-Indian-immigrants-who-is-also-an-aspiring- cardiologist had
done a Bollywood dance
, worn a swimsuit, and won a tiara. Beyond a passing eye-roll, I wasn't that interested.
But then came you, dear tweeters, and
the reports of your racist hatred
swathed, sari-like, in your unabashed ignorance: your conflation of Indian fusion dance with "Indonesian" dance; your interchange of "Arab" for "Indian"; your assertion that this brown-skinned Miss America was not somehow "American" despite being born in Syracuse, New York. And I realized then that your firestorm of xenophobic fury was nothing more than fodder for an excellent real-life lesson in
feminist intersectionality
.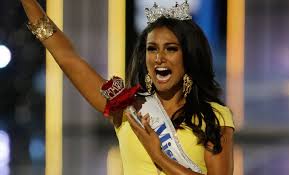 Because of you, dear tweeters, I – like many other
feminists of color – have been forced to defend a brown woman's right to win a competition whose premise turns my stomach. (Talent contests! Hair spray! Your answer to world peace in two minutes or less!) Because the truth is, your insight-less cyber-comments reveal much about the reality of living, as brown women, in post-9/11 America.
The 'contingent citizenship' faced by most Asian- and Middle Eastern-Americans was a reality of our lives long before the twin towers fell. The perpetual question "where are you from?"–when answered 'incorrrectly'–is still usually followed up by "no, where are you REALLY from?" (Refer to this genius
'What Kind of Asian Are You' video
by Ken Tanaka as a cultural refresher.) Somehow, in mainstream American consciousness, it has always been impossible to be both of Asian or Middle Eastern origin and from Texas, or Syracuse, or Ohio. No matter how many generations we have been in the United States, no matter our contributions to this nation, our communities are damned to marginalization as 'perpetual foreigners.'
But after 9/11, those of us with brown faces (whether Muslim or Sikh, Hindu or Christian, atheist or agnostic) have found ourselves also
conflated with the face of terrorism
. We have been yelled at on the streets, unduly
searched at airports
, the victims of hate-crimes, and had our families and communities targeted for police
harassment
,
immigration detention
, and deportation.
To read the rest of this essay please visit
The Feminist Wire!